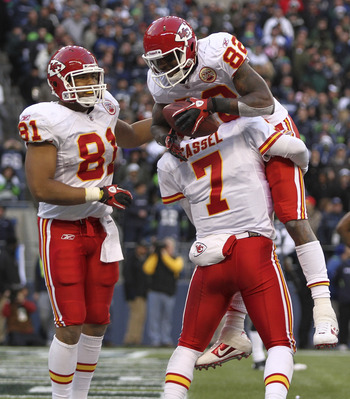 Photo: Otto Gruele Jr. - Getty Images
- Adam Parker
In part one of our two-part series where we pick a dark horse team to represent each conference in Super Bowl XLVII, we'll be talking some Kansas Chiefs football.
Why not the Chiefs, right?
I mean, this early in the league year with training camps slated to get underway later this month, the Chiefs have as good a chance as anyone else to make a run to Super Bowl XLVII, don't they?
Hell, they probably could have made a run at the whole shebang last season were it not for the countless injuries they suffered throughout the roster. At the very least, you know, with all of the talent on this roster, that the Chiefs would definitely have finished better than a disappointing (7-9) in 2011.
But that's what's so great about 2012. It's a new season. A fresh start. A clean slate for all 32 teams. Players are coming into training camp healthy, and barring they stay that way, every team in the NFL probably breaks camp feeling like they can go out and conquer the world — and that's how they should feel, e
ven if it's not realistic.
But in the case of Kansas City, we'd like to think that their chances are better than most teams outside of perennial AFC superpowers like New England, Pittsburgh and Baltimore.
The Chiefs have everything they need to make that jump to the Big Time in 2012. Why do we believe that?
Well, I'm glad you asked...
While the hype train was busy making it's rounds up in Mile High thanks to the inking of one Peyton Manning, Chiefs general manager Scott Pioli continued business as usual — sitting in his office, feet propped up on the desk, smoking a Cuban cigar (okay, maybe not the cigar part, but you get the idea) and making the not-so-sexy moves needed to build a championship contender.
The first Pioli move that we'd like to discuss is the addition of the
White Hope —
Peyton Hillis. All I can say is, what a steal for Kansas City! Granted, this guy really only had one dominant year as a feature back in Cleveland (2010) and saw his production really taper off in 2011. Whether it was the injuries, the contract issues or that
increasingly hard not to believe
Madden curse, Hillis was off his game last year and as a result, was let go by the Browns in favor of Trent Richardson.
Right move by Cleveland? Absolutely.
Nevertheless, the Chiefs were more than happy to take a flier on Hillis for 2012, especially when he's just coming in to provide some physicality and toughness to a running game already featuring a shifty,
lightning in a bottle
home-run threat in Jamaal Charles.
Speaking of Charles, he, along with teammate Eric Berry are both returning to the field at full strength in 2012 after having their 2011 campaigns cut prematurely short because of knee injuries. If that doesn't get the fans in KC excited, I don't know what will.
How about this though? In addition to the return of Berry on defense, the Chiefs also have phenomenal pieces in tackling machine Derrick Johnson, sack king Tamba Hali, incoming rookie BIG man Dontari Poe to plug up the middle, and arguably the most under-appreciated lockdown corner in the league in Brandon Flowers.
If that wasn't enough, on offense, in addition to the
Smash and Dash
combo of Hillis and Charles, the Chiefs also have second-year wide receiver Jonathan Baldwin, big pass-catching tight ends in Tony Moeaki and Kevin Boss. Add those guys in with Dwayne Bowe, Steve Breaston and Dexter McCluster and you have enough talent to keep even the notorious Matt Cassel from screwing things up.
All that being said, the Chiefs have one of the tougher schedules of any team heading into the new season, but as long as they can avoid the injury bug, I like this Romeo Crennel-led squad to take the AFC West crown, if not more.