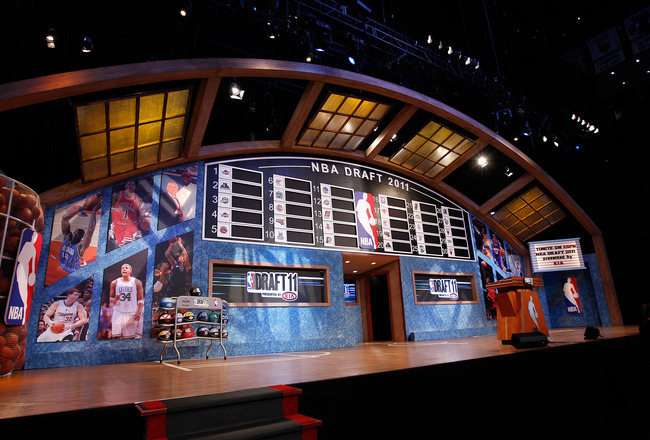 Photo: Getty Images - Mike Stobe
- Adam Parker

Well, there you have it, folks.

Another season is in the books, with the Miami Heat winning the NBA title and LeBron James finally getting that long sought after championship after nine years in the league.

Now that the playoff extravaganza has ended, focus now shifts fully to the NBA Draft, where teams will be looking to add the stars of tomorrow to help their squads take the next step.

We here at Beard and Stache have been as anxious as a kid the night before Christmas about this year's draft, and we're glad to once again be bringing you our very own mock draft.


1. New Orleans Hornets: Anthony Davis, PF/C - Kentucky
The writing has been on the wall ever since the draft lottery ended. Whether you believe it to be a conspiracy or not, the fact still remains.
The Brow

is headed to the Big Easy. While his offense is still a work in progress (like many other young incoming big men), his defense is the stuff of legends. He'll need to add strength to be able to absorb contact and better defend NBA bigs, but his athleticism and shot-blocking prowess make this a no-brainer pick as the Hornets start the rebuilding process in the post-Chris Paul era.

2. Charlotte Bobcats: Thomas Robinson, PF - Kansas


The Bobcats need help everywhere. There's a reason they finished with the worst winning percentage in league history, albeit in a lockout-shortened season. There are rumors circling that Charlotte could end up trading down to try and pick up some additional pieces to fill the countless holes they have on their roster, but for the sake of this scenario, we like Robinson. The Bobcats finished 26th in the league in rebounding this past season, and not only could Robinson help on the boards, he's also an underrated scorer down low.



3. Washington Wizards: Bradley Beal, SG - Florida


Barring someone trading up ahead of them to No. 2 (which could very well happen) the Wizards will be ecstatic to add Beal to a young backcourt featuring former No.1 overall pick John Wall at point guard. Though Beal doesn't have the prototypical size you look for in an NBA two guard, he can still flat out score the basketball, whether it's using his athleticism to get to the rim or helping space the floor with what is arguably the best shooting stroke in this year's class.





Beal is exactly what Wall and the Wiz' need right now after recently trading for Trevor Ariza and Emeka Okafor and Beal, along with the two Hornets turned Wizards, should give Washington a lineup to at least be competitive next year. Who knows? Maybe they'll even sneak into the playoffs.



4. Cleveland Cavaliers: Michael Kidd-Gilchrist, SF/SG - Kentucky


MKG enters a situation where the Cavs' are sporting the reigning NBA Rookie of the Year in Kyrie Irving. Now, Irving is going to get some help. MKG is arguably the second-most NBA-ready prospect in this year's crop and after winning the National Championship in Kentucky alongside Anthony Davis, he's proven that he's a hard-working winner whose attitude is infectious. Cleveland could definitely use some of that.



5. Sacramento Kings: Andre Drummond, C - Connecticut
This probably won't be the most popular pick in Sacramento, but hear me out. Though DeMarcus Cousins played admirably at the center position this past season, it's widely known that his true position is power forward. Granted, Drummond is still rather raw but his size, length and overwhelmingly high ceiling makes him a viable choice. The team could also go with North Carolina swingman Harrison Barnes in this spot.

6. Portland Trail Blazers (via Brooklyn Nets): Damian Lillard, PG - Weber State
The Trail Blazers have two picks in the first round and have two glaring holes at the point guard and center positions. Lillard is skyrocketing up draft boards and with the team needing to replace Raymond Felton, Lillard's devastating quickness and athleticism make him a smart pick here. Under the Nate McMillan regime, I would have gone with Kendall Marshall here as he reminds me of a young Andre Miller.

However, with McMillan out, the team's offensive philosophy is likely to change. After all, LaMarcus Aldrigde can't be expected to score all the points. Enter Lillard. He'll have to continue to improve his passing, but his ability to score from anywhere on the floor should help the Blazers tremendously.

7. Golden State Warriors: Harrison Barnes, SF - North Carolina
A big man seems to be the popular consensus for the Warriors looking around the internet at other mock drafts, but we here at Beard and Stache think they have a solid frontcourt with David Lee and a hopefully healthy Andrew Bogut whom they acquired in the Monta Ellis to Milwaukee trade. Instead, we have the Warriors adding Barnes, who along with Stephen Curry and Klay Thompson, should make for quite the scoring punch for the Warriors going forward. The main thing for him is to not get complacent. Second-year head coach Mark Jackson will no doubt help with that.

8. Toronto Raptors: Jeremy Lamb, SG - Connecticut
With 2011 first-round pick Jonas Valanciunas set to make his NBA debut next season, the Raptors' main remaining need is for an explosive scorer at the shooting guard position. Though I really like DeMar DeRozan, I feel like he could play either the two or three, if necessary, thus opening the door for UConn's Lamb. Like the majority of these players, Lamb will need to hit the weight room hard this summer to add some muscle to that lanky frame, but his natural scoring ability and length should make him a staple in Toronto for many years to come.

9. Detroit Pistons: Arnett Moultrie, PF - Mississippi State
This is the first 'reach' of our mock draft, but the reason we're going with Moultrie hear is because it's rumored that the Pistons have promised to select him here. Extremely athletic and long, but oddly not a great shot blocker in college (averaged 0.9 blocks per game). However, he's a tenacious rebounder with a relentless motor and strong offensive game. The duo of Moultrie and Monroe will be a bright spot in Detroit next season.

10. New Orleans Hornets (via Timberwolves): Kendall Marshall, PG - North Carolina
With their second pick and final pick in the first round, New Orleans opts for Marshall here, the only true, pure point guard in this class. Phenomenal court vision and great passing make him a great fit to feed Anthony Davis the ball anywhere and everywhere on the floor. He'll need to develop more of an offensive game, but his play-making skills and size at the point guard position (6'4") make him a lock to see plenty of playing time early on, especially with the Hornets.

11. Portland Trail Blazers: Meyers Leonard, C - Illinois
This legit seven-footer is still fairly raw from an offensive standpoint, but his length makes him a great rebounding and shot-blocking talent from the moment he takes the floor. Luckily, with All-Star forward LaMarcus Aldridge handling the bulk of the scoring duties down low, coaches can allow Leonard's offensive game to come along gradually while he swats shots into the stands and swallows up rebound after rebound.

12. Milwaukee Bucks: Tyler Zeller, C - North Carolina
The Bucks likely would have gone with Leonard if he wasn't selected a pick before him. Instead, they settle for the Tar Heels' senior center in Zeller. As a senior, his ceiling isn't as high as some of the other big men in this class, but he has arguably the most NBA-ready offensive game down on the low block. Add in the fact that he runs the floor like a gazelle and the Bucks have a viable replacement, albeit not an All-Star talent for Andrew Bogut.

13. Phoenix Suns: Dion Waiters, SG/PG - Syracuse
It's been rumored for at least a month now that Waiters has a promise from someone in the lottery, and many people around the league believe it's the Suns. As a Suns fan myself, I can say that I would be overjoyed to land Waiters, who according to some scouts "has a little Dwyane Wade" in him. Needless to say, there's nothing wrong with that. His ability to create his own shot (which is something Phoenix desperately needs) and attack the rim with reckless abandon will be Waiters' main calling cards in the NBA while he continues to work on his average jump shot.

Waiters' scoring ability will be a welcome sight in the desert.



14. Houston Rockets: John Henson, PF - North Carolina
The Rockets would love to see a center here like Zeller or Leonard seeing as they haven't had consistent center play since the now-retired Yao Ming played his last relevant basketball in 2008-09. But the Zeller and Leonard already off the board, the Rockets go with Zeller's college teammate, the athletic shot-blocking big man from North Carolina -- John Henson.

15. Philadelphia 76ers: Terrence Jones, PF/SF - Kentucky
With Elton Brand likely to be slapped with the amnesty tag (or at least 76ers fans hope so) and Spencer Hawes set to become a free agent, the 76ers are in dire need of frontcourt depth. Despite being overshadowed by super frosh Anthony Davis last season at Kentucky, Jones enters the league with an NBA-ready body and all the necessary tools to be a solid rebounder and scorer, something Doug Collins will be more than happy to have.

16. Houston Rockets (via New York Knicks): Terrence Ross, SG - Washington
Kevin Martin wasn't himself this past season and some people believe that he and head coach Kevin McHale are having a difficult time getting on the same page. With that, Martin will likely be wearing a different uniform sometime down the line, which opens up a spot for Ross in the rotation. His 6'7" size will be an asset defensively, and he's a good shooter who also has the ability to create his own shot.

17. Dallas Mavericks: Marquis Teague, PG - Kentucky
It's difficult to say what Dallas will do with this pick. They clearly need a point guard with the age of Jason Kidd and the fact that Rodrigue Beaubois is less of a floor general and more of a scorer. Deron Williams is a potential candidate to take over the starting job in Big D once he hits the free agent market on July 1. But before Mark Cuban can sink his teeth into D-Will, the club decides to snag Atlanta Hawks point guard Jeff Teague's little brother.

Marquis is an exceptional athlete who prefers to attack the lane and create for himself and his teammates off the drive. He may still be somewhat raw, but the fact that he was the starting point guard for the National Championship Kentucky Wildcats this past season has to count for something.

18. Minnesota Timberwolves (via Utah Jazz): Austin Rivers, SG/PG - Duke
Doc's son's got game. That's the best way to put it. The kid has through the roof confidence, and as the son of a former NBA player/current coach, he's been around the game his entire life. Can you imagine a backcourt of Ricky Rubio and Rivers? Wow.

19. Orlando Magic: Fab Melo, C - Syracuse
The Dwight Howard-sized dark cloud hanging over Orlando makes this an easy pick. Not only is there uncertainty surrounding the health of DH12's back after suffering a herniated disk late in the regular season, but it appears that he's once again fed up with Orlando and regrets opting in to the final year of his current contract.

So it comes down to this. If Dwight stays in Orlando, it's not known whether or not he'll miss time recovering from the back injury. If he doesn't stay (which I think is the more likely scenario at this point as I imagine the front office is growing tired of the headache regardless of his immense talent), then Orlando will need a new defensive-minded big man to man the middle and defend the rim. The Brazilian-born Melo fits the bill perfectly.

20. Denver Nuggets: Andrew Nicholson, PF - St. Bonaventure
This small-school prospect continued to raise his stock with an impressive showing at the NBA combine following a spectacular final collegiate season in which he led his team to its first NCAA tournament appearance since 2000. Nicholson has a great face-up offensive game with range stretching out to the three-point line.

He's a great screen-setter and enjoys setting up for pick-and-pop situations as well as using an above-average shot fake to beat slower defenders off the dribble. He enters the NBA with an extremely high basketball IQ and a great understanding of floor spacing. His motor has been questioned at times, but he'll be a great fit once coaching legend George Karl gets his chance to work with him.

21. Boston Celtics: Jared Sullinger, PF/C - Ohio State
There are question marks and red flags abound about Sullinger's supposed back issues, but this late in the first round I simply don't see how a team like Boston can pass on him. I've always thought of Sullinger as a very rich man's Glen Davis. He'd be a great fit in Boston in a frontcourt that could use an infusion of youth.

22. Boston Celtics: John Jenkins, SG - Vanderbilt
Jenkins has arguably the sweetest stroke in this draft, and that alone could make him a great fit for Boston especially with the uncertainty surrounding the Ray Allen free agency situation. He's a plug-and-play guy as a shooter, which is definitely something Boston could use more of, whether they keep Allen around or not.

23. Atlanta Hawks: Royce White, PF/SF - Iowa State
White did it all for the Cyclones last season. He led the team in points, rebounds, assists, steals and blocks per game. I liken his game a lot to a very rich man's Boris Diaw, and Atlanta could use an improved reincarnation of the former Hawk. The troubling red flags around White is his well-documented anxiety order and fear of flying. He has lottery pick talent, but his value is being discounted because of the above problems. The Hawks may try to trade Josh Smith in order to move up in the draft as well.

24. Cleveland Cavaliers (via Los Angeles Lakers): Doron Lamb, SG - Kentucky
The Cavs' needed to get a shooting guard to pair with Kyrie Irving in the backcourt and with Lamb, they accomplish that. Though not as talented as UConn's Jeremy Lamb, Doron still has a silky smooth jumper that would be a great asset for Irving to have when looking to pass off of dribble-penetration.

25. Memphis Grizzlies: Evan Fournier, SG - France
The Grizzlies have talent and depth across the roster, so they're one of a few teams who can afford to draft an international talent like Fournier and stash him overseas for a few seasons. The young French guard models his own game after Spurs star Manu Ginobili. That may be a bit of a reach, but put it this way -- if this kid ends up even half as good as Manu, the Grizzlies will have made a solid pick.

26. Indiana Pacers: Tony Wroten Jr., PG/SG - Washington
For whatever reason, the Pacers seem to be collecting point guards recently like the Minnesota Timberwolves collect point guards and small forwards. Wroten has no consistency in his jump shot to speak of, but that can be improved with practice and coaching. At 6'6", he has exceptional size and strength that allows him to play either the one or two at the NBA level.

He's extremely aggressive and is always looking to attack the defense, but unlike Oklahoma City's Russell Westbrook, Wroten is a willing passer. Some people liken him to an Iman Shumpert or Tyreke Evans-type of player. If he gets anywhere close to that, the Pacers may not need another point guard for quite some time.

27. Miami Heat: Jeffrey Taylor, SF - Vanderbilt
As if the Heat need anymore shooters at this point. After Thursday's shooting clinic in the clinching game of the NBA Finals, it's clear that Pat Riley has put together a system and a team that works. Taylor fits the mold of a role player for the Heat perfectly.

Not only is a great perimeter defender, but he's also exceptionally adept at knocking down the long-range jumper, connecting on 43 percent of his attempts from beyond the arc this past season at Vandy. With James Jones and Mike Miller rumored to be contemplating retirement, Taylor can step right into either spot in the rotation. The rich get richer in Miami.

28. Oklahoma City Thunder: Perry Jones III, SF/PF - Baylor
Okay, I think at this point, it's safe to take a flyer on Jones. The guy has all the talent and athletic ability to be a lottery pick, but just doesn't seem to show that consistent drive or motor when on the floor. He's extremely unselfish which will make him a popular teammate but could also prove to be a double-edged sword considering the wealth of talent he personally possesses.



Nevertheless, the Thunder are young and the more athleticism and length they can add to that roster the better. Don't be surprised if this ends up working out for both sides if this does actually happen.



29. Chicago Bulls: Will Barton, SG/SF - Memphis
Looks like another Memphis Tigers guard is heading to Chicago to team up with Derrick Rose. Barton is extremely skinny and needs to add bulk to his 6'6" 175 lb. frame or risk getting bullied and tossed around by the bigger NBA guards. Some people liken his game to Richard Hamilton, a lanky guard with a solid shooting stroke. Whether he lives up to that assessment is another story.

30. Golden State Warriors (via San Antonio Spurs): Quincy Miller, SF - Baylor
We finish out the first round and our mock draft with Golden State taking a chance on the second high risk-high reward forward coming out of Baylor in this class. He's still working on regaining some of that lost athleticism and explosiveness after tearing his ACL during his senior season in high school.

At 6'10" and a ridiculous 7'3" wingspan, Miller has the length to be a decent rebounder from the small forward position as well as defender. He operates mostly from the mid-range area offensively and is a very craft shot creator. Time will tell if he'll be able to return to his pre-ACL tear form, but at this point in the draft, I think the Warriors can afford to take a gamble.

Be sure to follow Beard And Stache on Twitter

@BeardAndStache

,
and also Adam

@Adam_Parker43

, Like our Facebook page

HERE

!